Corfu is the second-largest Ionian Island and it is a true beauty! Because it is one of the most northern islands of Greece and there is quite an amount of rain in autumn Corfu is Greener than you would expect. I really had the best time and I know for a fact you will too! 
Here's what I found to be the best things to do In Corfu: 
Corfu Town
Corfu town (Kerkyra in Greek) is the captital of Corfu and can definitely not be missed on your trip to Corfu. The city has around 35.000 inhabitants and is strongly influenced by the Vaticans, The French and The English, which you can can see stunning Venetian architecture and history all around town. It has this accolade because of the stunning Venetian architecture and history. In June 2007 the Old Town of Corfu was added to the UNESCO World Heritage List.
Lefkimmi
Whenever I'm traveling I'm always looking for traditional places where I can learn more about cultures traditions and cultures and so I ended up at Lefkimmi. This village has 5000 inhabitants and is untouched by mass tourism. Lefkimmi still today keeps its old structure and traditions. Don't expect beautiful resorts or hip restaurants here, but old woman with donkeys, people drinking Ouzo in local bars and old buildings ( love love love! ) Lefkimmi is set in a fertile plain full of olive groves, citrus trees and vineyards. A river runs through the eastern part of the town where local fishermen moor their wooden boats, creating a very picturesque sight. This is where most restaurants are located as well. Lefkimmi also has a beautiful beach nearby; called Booka beach. Unfortunately I did not have a lot of time here, but if I had the chance I definitely would have spent a day sunbathing here.
Korrision Lake
When I was talking to a Greek lady next to me on the beach she told me about flamingos on the island. As an animal lover I had to go check it out. Lake Korission is located at the south west of Corfu about a 45 minute car ride from the Corfu Town. It's home to hundreds of unique birds like haws, buzzards, owls and sometimes flamingos who visit the laking during their long trip. It's a beautiful area to walk around and right next to Halikounas Beach where you can chill out, try out – or watch – kite surfing or have a drink at Tayo beach bar like I did.
Airport spotter pier
Corfu airport has only one runway and is one of the smaller airports of Europe. From the spotter pier the planes fly directly over you and it feels like you can almost touch them! It's a great place to take pictures. You could also watch the planes in Kanoni on one of the terraces. The Holy Monastery of Vlacherna is located right next to the Spotter pier so you can check that out too.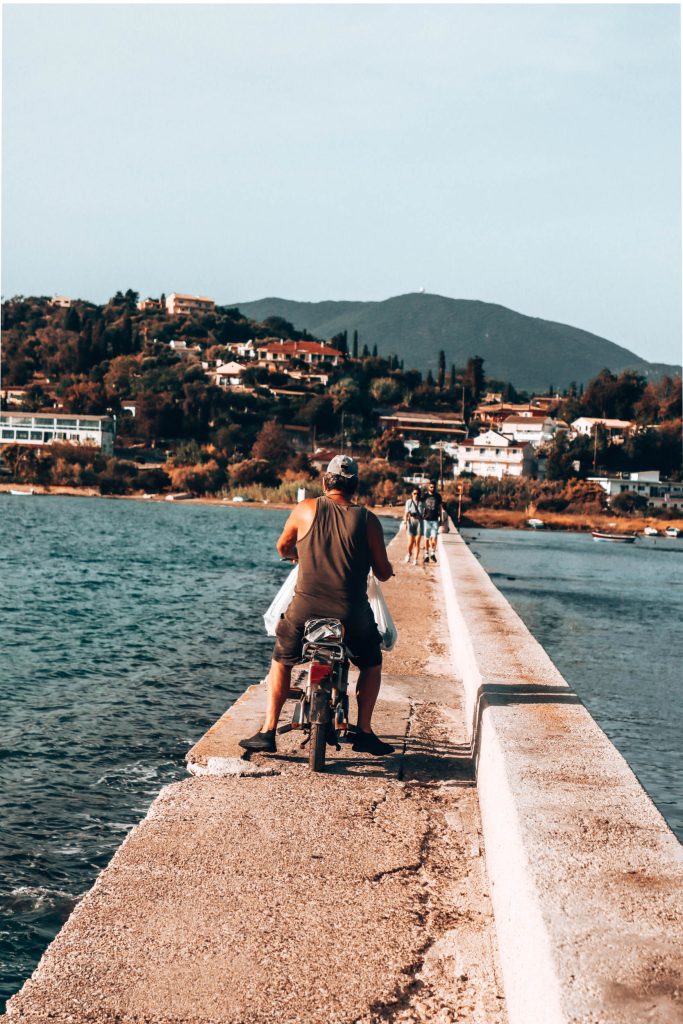 Cape Drastis
Kape Drastis is located in the north of Corfu near Perulades village and it is an absolute gorgeous place with impressive rock fomartions that are worth visiting. Parking is easy and you don't have to walk far.
Tip: if you walk all the way down at Cape Drastis you'' find a small place where you can swim, sunbath, and take a boat tour to Canal D'Amour for example. Don't forget to bring cash! ( I did unfortunately ).